Start To Print - Complete Set - (1 set)
Special Price
€ 7.999,00
Regular Price
€ 10.299,00

Start To Print
Complete Set
This Set Contains:
1. SprintRay Pro Desktop 3D Printer
The leading desktop 3D printer for digital dentistry professionals

SprintRay Pro: The New Industry Standard
3D printing in dentistry is much more than just a new technology: it has the potential to control costs, improve flexibility, and expand the scope of patient care. To deliver on this potential, we made SprintRay Pro the most user-friendly, powerful and reliable desktop 3D printer in dentistry. Because the technology in your office needs to solve problems, not create headaches.
Massive Print Volume
Enough throughput for the largest jobs in a compact, desktop form factor. Print up to 30 full-arch dental models in a single batch.
Platform: 18 cm x 10 cm surface area

Onboard Assistant
A built-in 6-core computer helps you to manage jobs, ensure successful prints, and calibrate SprintRay Pro.
Lightning-fast Prints
Industry-first advances in projector, tank and resin technology. Triple the print speed compared to previous models.
Future Proof
Receive over-the-air updates that keep you current with the latest features. Send, queue and monitor print jobs wirelessly from anywhere.
Intensity, meet accuracy.
The custom projector used in SprintRay Pro delivers high-intensity light uniformly across the entire build surface.
Developed specifically for 3D printing, each projector's output is checked at key points across the build surface for accuracy measured down to the individual pixel. It's the only way to ensure a perfect, accurate print. Every single time.

405nm LED 95μm Projector
2x Surface Area
With twice as much surface area as previous models, SprintRay Pro's projector offers massive throughput.
3x Print Speed
Higher light intensity allows for faster curing, which means faster prints – up to three times faster than previous models.
Meticulous Detail
Uniform distribution of light, checked at key points on the platform, provides micron-level accuracy. Perfect for printing dental parts of all kinds.
Breakthrough tech, breakneck speed.
SprintRay introduces another key innovation with SprintRay's proprietary STEM Tank™ technology. The STEM (Selectively Textured Elastomeric Membrane) Tank introduces air between the resin and tank floor to minimize adhesion, then uses elastic displacement to separate the print from the tank floor. The result is a dramatic improvement in speed with a reduced risk of failed prints.

60% More Capacity
60% greater tank capacity and volume estimates help ensure you never run out of resin.
Brains Behind the Brawn
Intuitive touchscreen controls and contextual instructions managed by a 6-core CPU make learning curves a thing of the past. Start print jobs directly from front panel USB port.
RayWare Software
Automatically convert intraoral scans to full models, ready for printing. Add labels to model supports. RayWare automates the frustrations away from dental 3D printing.
2. Pro Wach/Dry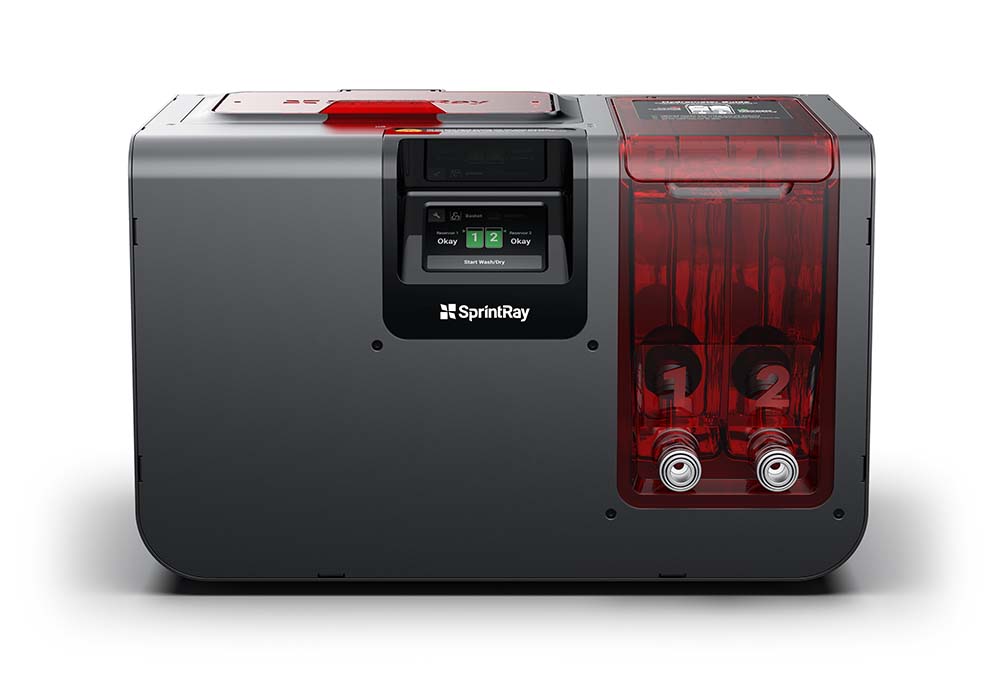 Multistage Automated Washing System Designed For Dental 3D Printing
SprintRay Pro Wash/Dry is the first fully-automated, two-stage wash and dry system built to deliver the speed, cleanliness, and ease-of-use demanded by the modern 3D printing dental clinic.
Fast
Pro Wash/Dry uses mechanical jetting to rapidly deliver IPA to printed parts. This unique method provides excellent of agitation, reducing wash duration while offering improved cleaning power.
Clean
Thanks to a suite of automatic features, the only time you have to touch IPA is when you pour it into the reservoirs. Automatic pumps recycle alcohol, and quick-connect hoses whisk it away.
Easy
Pro Wash/Dry was designed with input from the dental community. Inspired by DIY kits all over the world, we leveraged the latest technology (and invented some of our own) to deliver a superior washing experience.
3. ProCure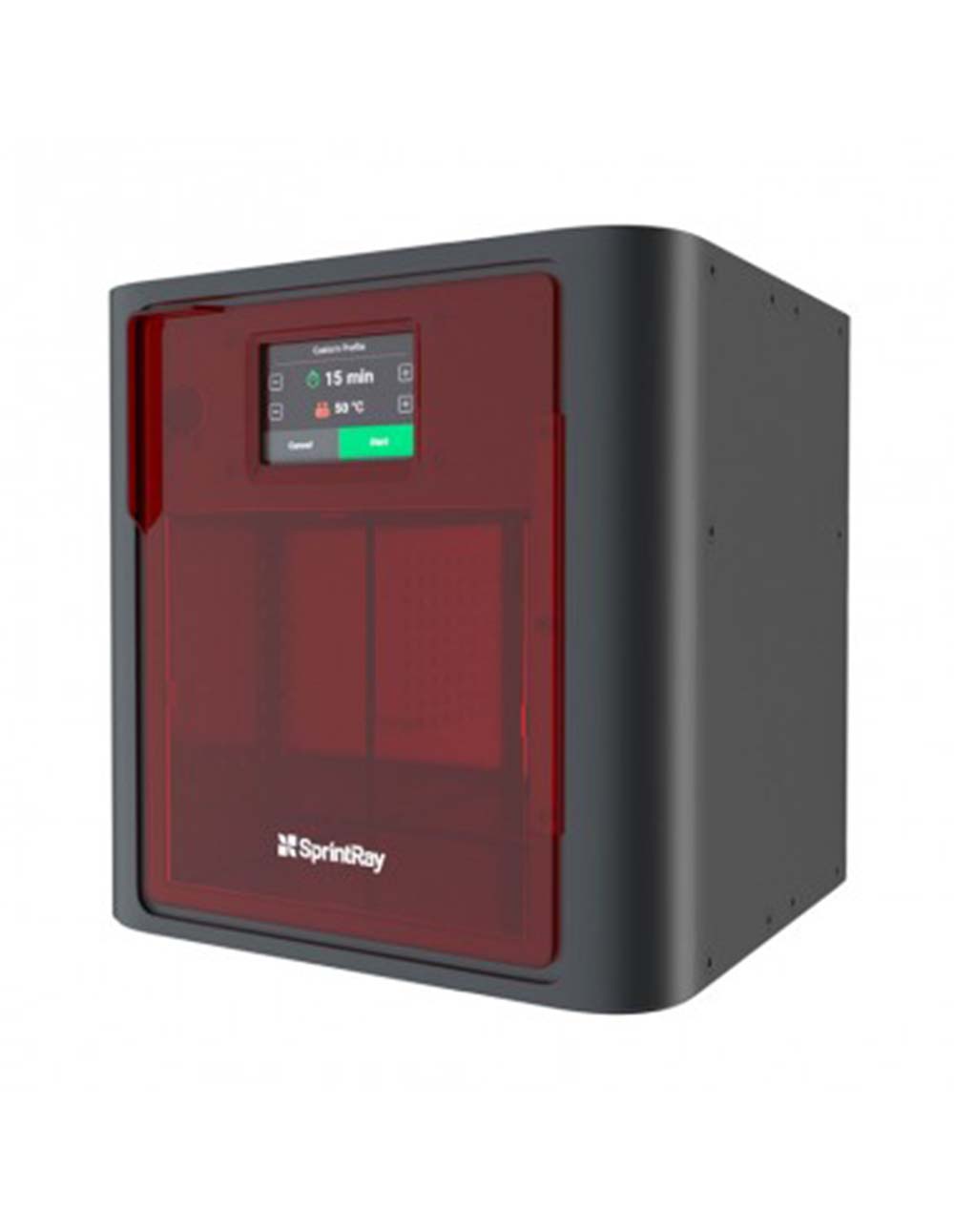 Better parts in less time
Increasing the efficiency of your workflow leads to better, more predictable outcomes. Pro Cure optimizes the post-curing step for clinicians to offer the best output in the shortest time, all at the touch of a button.
Powerful
Pro Cure is designed for the high-throughput demands of modern clinics and labs.
Easy
Simply select the resin you printed with and Pro Cure handles the rest with a single touch.
Future-Proof
Frequently updated curing profiles mean that you're always operating at capacity.
Ready. Set. Cure.
A 3.5" touch-screen programmed with a range of 1-touch profiles for most dental 3D printing resins.
Surprisingly Simple, Seriously Powerful.
An array of high-powered LEDs and a convection heating chamber deliver better parts in less time.
Powerful 405nm LEDs
Pro Cure distributes 90 watts of curing power across 10 sets of high-output LEDs and omni-directional reflective surfaces for best-in-class curing speed.
Convection Heating Chamber
At the heart of Pro Cure is a sensor-controlled convection heating chamber to create the perfect environment for rapid, thorough curing.

Post-processing made easy.
Rapid & Thorough Curing
With a 90-watt LED array, sensor-controlled convection heating, and omni-directional reflective surfaces, Pro Cure maximizes cross-linking and the mechanical properties of your prints with best-in-class speed.
Unmatched Convenience
Pro Cure's 3.5" touch-screen comes programmed with a range of 1-touch settings. Compatibility with most dental 3D printing resins and a 30-arch capacity help SprintRay Pro Cure take the work (and the guesswork) out of post-processing.
Easy to Own and Maintain
The USB interface of Pro Cure allows you to easily add new curing profiles as materials are released. Along with user-replaceable LEDs and solid aluminum panel construction, Pro Cure is dependable and convenient.

4. 3D Printer Liquid Mixer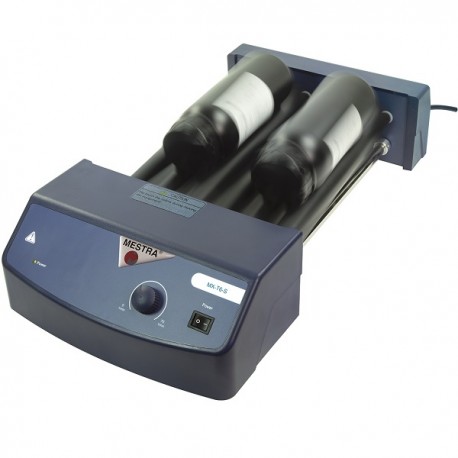 Agitation device of resin bottles. Double movement, rolling and swing, so the mixing action is smooth and highly efficient.
The characsteristics of the resin are not altered due to an excessively energetic movement.
A homogeneously mixed resin is indispensable to get an excellent print job.
The machine is silent and has a speed regulator.
5. Die And Model II Tan - 1L - For Free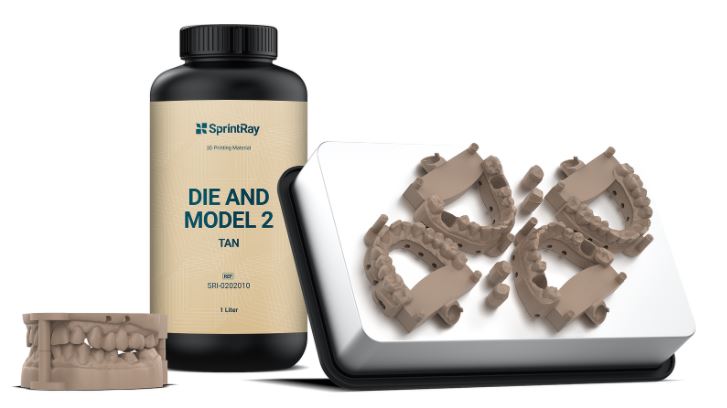 SprintRay Die & Model 2 represents a big step forward in dental modelling materials. Our new tan color mimics classic dental stone and features almost no pigment settling, which means you can spend more time printing and less time mixing. Improved adhesion to the build plate is matched by an increase in flexural modulus and strength, providing higher success rates and a reduced chance of breakage.
A reduced odor improves the quality of life for 3D printing models for an overall experience that your practice staff will love. Plus, Die & Model 2 resins are easier to separate from thermoforming materials, saving time and labor for more efficient in-office fabrication workflows. With rapid, repeatable results that are easier than ever to use, Die & Model 2 Tan is helping to bring dental 3D printing into dental practices everywhere.
• Improved flexural modulus and strength
• Up to 10% faster print speeds
• Print up to eight full arch models in just 15 minutes*
• Fantastic color and finish that mimics dental stone
• Easy to separate from thermoforming materials
*When printed on SprintRay Pro with Ludicrous Speed profile.


6. Isopropanol 99.9 % - 5 L - For Free
Isopropanol Cleaning Alcohol is perfect for cleaning your resin prints.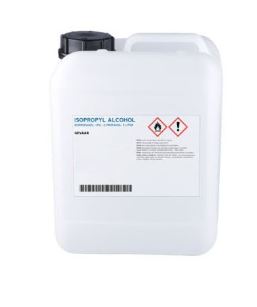 Technische info

| | |
| --- | --- |
| Handelingen | Printen |